We are delighted to announce that the 2019/2020 Apprentice of the Year is Tom Oakman,  an electrical apprentice working at Alderney Electricity.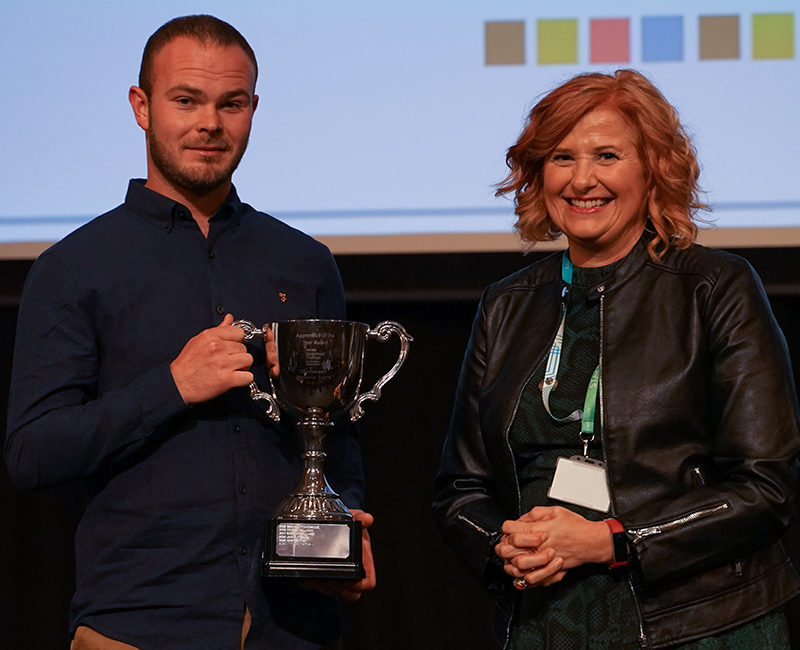 Tom is described by his tutors as one of the hardest working apprentices to ever come through the electrical course. Since the start of his apprenticeship. He has always been top of the class and gained top marks in both theoretical and practical assessments, producing work to the highest standard. Tom's commitment to both his course and his work is exemplary, constantly striving for the highest level of workmanship and, despite having to travel over from Alderney each week and having to undertake a huge amount of overtime at work, he has always managed to keep his College work not only up-to-date, but of the highest standard. He has recently undertaken the design, construction and testing of the power and lighting within the new power station in Alderney, and Alderney Electricity describes him as an outstanding apprentice and employee.
The Apprentice of the Year was set up in 2001 to acknowledge the dedication of apprentices in any apprenticeship offered within the Guernsey Apprenticeship programme.
Every year, the Apprentice of the Year awards are held, and both employers and apprentice tutors are offered the opportunity to nominate an apprentice for these awards. An apprentice from each subject is selected and receives a trophy and certificate and from these category winners, an overall winner is chosen.
The category winners this year are as follows:
Adult Care
Destiney Smith – GreenAcres
Built Environment
Dan Tibbs – J G Architecture Ltd
Carpentry & Joinery
Bradley Smith – R G Falla Ltd
Early Years
Emma Lesbirel – Woodlands Nursery
Electrical
Tom Oakman – Alderney Electricity
Engineering
Tom Sangan – States Works
Hairdressing
Courtney Le Moigne – AllBeauty
Horticulture
Matthew Leach – Auburn Gardens
Motor Vehicle
Adam Le Ray – Paul's Motors
Jewellery
Megan Hearse – Catherine Best
Painting & Decorating
Bailey Tulie – JWH Decorating
Plumbing
Jamie Ferbrache – JER Group
Professional Cookery
Roddy Menezes – The Kiln
Retail
Nicole Piercy – Waitrose
Trowel Trades
Ethan Lewis – R G Falla Ltd
Photos of the event below. Click on the images below to view.
Social Share