Destiney Smith - Adult Care apprenticeship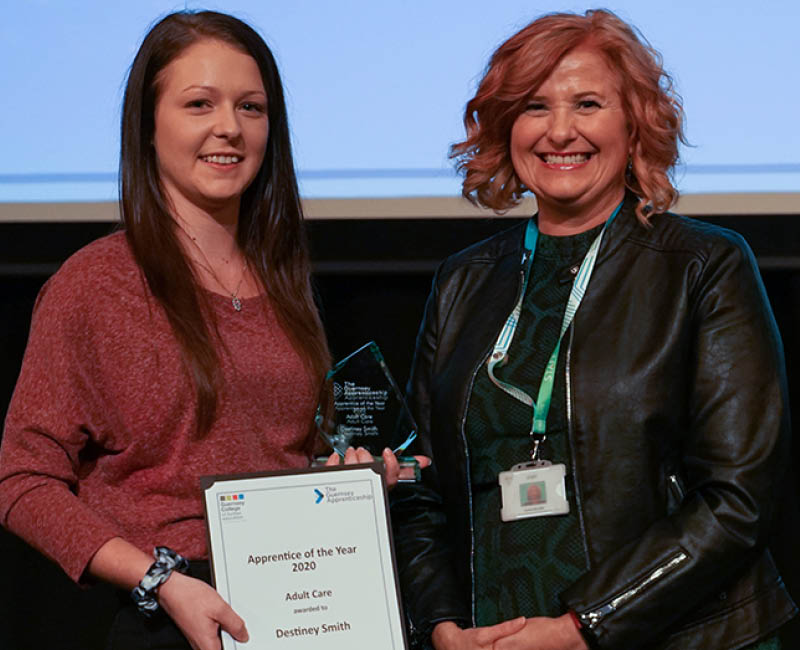 Destiney Smith pictured with College Principal Louise Misselke
Background
Destiney is an adult care apprentice at GreenAcres care home. She was already in full-time employment when she was offered her apprenticeship, which she saw as an opportunity to expand her knowledge while still being able to work at GreenAcres.
What she has enjoyed most 
"I have enjoyed analysing a lot of the work I already do as a carer. A lot of the things you do just come naturally if you genuinely care and it was interesting to learn in depth as to why these certain things matter so much in order to provide high quality care. And of course I have met some amazing people throughout the course who all also work super hard."
A memorable moment so far
"Winning Adult Care Apprentice of the Year award was of course my most memorable moment. It is always a big confidence boost to know that your hard work is being recognised."
Has she faced any particular challenges in her apprenticeship role?
"It was a strange and difficult year for everyone due to the coronavirus pandemic and the lockdown, but I especially found trying to balance College and work a challenge during these times. A lot of changes were happening in our care home to protect our vulnerable residents, so at the time it was hard to focus on College related work while at work. I also found that doing College work from home wasn't quite the same and definitely made it harder to concentrate."
Advice for future apprentices
"My advice to a new apprentice would be to set yourself goals and to always be focusing on achieving them, no matter how small they may be. Sometimes it might feel as if it's all getting on top of you and you might feel stressed from time to time, but it's all worth it in the end."
Her employer has high praise for Destiney
"Destiney's confidence has grown throughout her apprenticeship. She is both enthusiastic and eager to learn and progress within the company. We are extremely proud of Destiney and her accomplishments to date and we look forward to seeing what else she will achieve in the future. We will continue to support Destiney in any way that we can."
How has the apprenticeship 

programme

 benefited GreenAcres?
"Throughout the apprenticeship, Destiney has gained new knowledge and skills relevant to the company, which she has applied to the workplace and shared with colleagues. Therefore, the company has benefited from knowledge sharing. Further, Destiney's new knowledge and skills have contributed to her ability to coach, mentor, and train new staff members and thus, the company has reinvented its induction process and introduced a 'buddy system' which Destiney shares responsibility for."
GreenAcres' advice for employers considering taking on an apprentice
"We would suggest any employer considering taking on an apprentice considers the benefits such as the fresh perspective that comes with hiring an apprentice. We would also suggest the employer speaks with past apprentices such as Destiney, who can share their experience of being an apprentice, their achievements and can describe why apprenticeships are a great opportunity for employers to improve the skills base of their organisation."