Emma Lesbirel - Early Years apprenticeship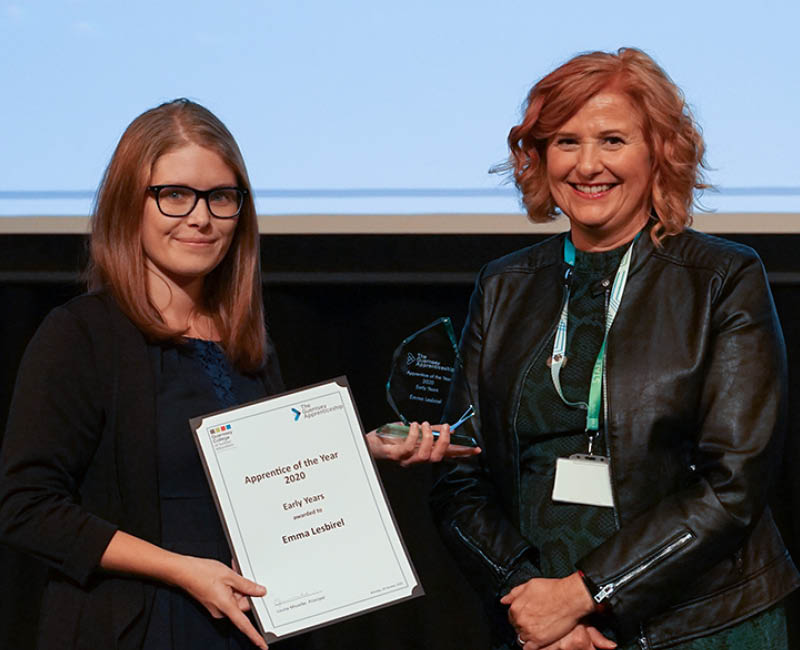 Emma Lesbirel pictured with College Principal Louise Misselke
Background
Emma is an Early Years Apprentice working at Woodlands Nursery and Preschool. 
She chose the apprenticeship route because it allows her to gain a valuable qualification at the same time as working within her chosen field. 
What she has enjoyed most 
"The thing I enjoy the most is the team I work with. They have all been very supportive and have helped me learn so much. I work in a busy and fun environment helping children learn and grow which is very rewarding."
A memorable moment so far
 "A highlight of my apprenticeship was being nominated and winning Early Years Apprentice of the Year 2020, and being shortlisted for College Apprentice of the Year."
Has she faced any particular challenges in her apprenticeship role?
"It took a little while to get settled into College after being out of education for so long, but once the other apprentices and I had bonded, we started to work really well together. Managing my study time at home was a bit tricky as I have two young children, but once I got started I have been able to keep up with the workload quite easily."
Advice for future apprentices
"Don't be afraid to ask for help or support. There is a lot to learn and the people you work with have more experience, so ask  questions. Don't be afraid to get stuck in. Be prepared. Make sure you have an idea of what is expected of you, what the hours of study are, what your work hours are and if any equipment or supplies are needed for your studies."
How does Emma's employer Louise feel the apprenticeship 

programme

 benefits her company?
"We as a company encourage staff to keeping training and learning for their professional development. In this challenging time, the apprenticeship programme has enabled us to offer a training programme to our staff."
Louise has high praise for Emma
"Our current apprentice is very hard working, uses her own initiative, and is respectful to both the children and members of staff. She is always very caring, gentle and understanding of the children's needs and very much a team player."
Louise's advice for employers considering taking on an apprentice
"I would say that they will need to emphasis to the apprentice that, although it will at times be a balancing act between work, home life and College, the rewards on completing the programme, plus the insight, knowledge and experience will very much be worth it. On completing the qualification, the apprentice will hopefully go on to study more to further their career."