The Guernsey Building Trades Employers' Association held its annual Gala Dinner & Recognition Awards on Friday 25 September at Farmhouse Hotel.
The College was delighted to be a part of the evening, celebrating the success of our apprentices on the various building industry apprenticeship programmes. During the evening the GBTEA launched its new promotional video 'I Wouldn't Say No to Construction'. The video highlights the amazing career opportunities available in this diverse industry and illustrates to students the alternative career paths available on the island via the Guernsey Apprenticeship programme. You can view the video on our Building & Construction apprentice page HERE
The 2020 nominated apprentices for the 2020 awards were:
Bradley Smith for Carpentry & Joinery
Apprenticeship training with R G Falla Ltd
Prize Sponsored by: C A Duquemin Ltd
Thomas Oakman for Electrical Installations
Apprenticeship training with Alderney Electricity Ltd
Prize Sponsored by Guernsey Electricity Ltd
Dexter Crowson for Plumbing & Heating
Apprenticeship training with ECO Installations Ltd
Prize Sponsored by: Domestic Heating Services Ltd
Dean Le Gallez for "Ronez Young Achiever" in Stone Masonry Skills
Apprenticeship training with Granite Le Pelley Ltd
Prize Sponsored by: Ronez Ltd
Flynn Meerveld for Trowel Trades
Apprenticeship training with J Meerveld & Sons Ltd
Prize Sponsored by UCF Civil Engineering Contractors Ltd
Michael McGinn for Painting & Decorating
Apprenticeship training with A&G Décor
Prize Sponsored by P3 Facades & Interiors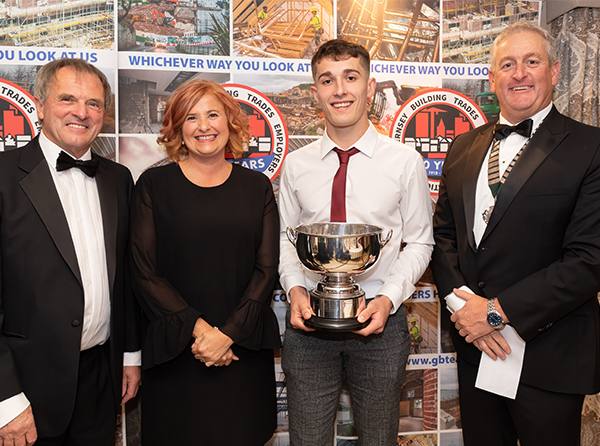 Each apprentice received an engraved tankard, a certificate of their achievement and a £100 voucher from their sponsor, for R H Gaudion & Son Ltd and DHS Ltd.
The overall winner and the new holder of the R G Falla Rose Bowl is Bradley Smith. Bradley also received a cheque for £250 from R G Falla Ltd. Congratulations to him and the other apprentices for their achievements.
Attendees also raised £841.20 for the GBTEA's chosen charity for 2020 – 'Mind Guernsey' – and Master of Ceremonies, Oscar Pearson from BBC Guernsey donated his fee to the charity pot meaning that Mind Guernsey will receive £1,000 in total.
A few more photos from the night below. Click on an individual image to enlarge.
Social Share